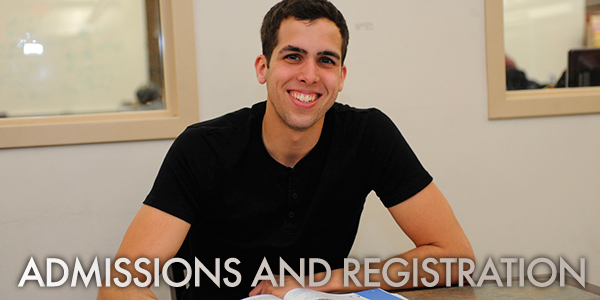 ---
Welcome
Welcome to Union County College Student Services Center, where  we offer a wide variety of services for new, returning, and transfer students. Our qualified staff can assist students with all  of the resources to enroll and be successful in one convenient location on each campus including:
Applying for Admissions
Academic Advisement
Registration for Classes
Financial Aid and Scholarship Assistance
College Placement Testing
Disability Support Services
Student Accounts and Billing
Educational Opportunity Fund (EOF)
Veteran's Benefits
International Student Visas
Your journey begins here and the friendly and helpful staff in the Student Services Center are available to guide you every step of the way. No appointments are necessary.
Admissions Policy
Admission to Union County College is open to all high school graduates, those holding high school equivalency certificates, or those persons eighteen years of age or older.
Application Procedures
Applicants must complete the Union County College Application for Admission. The application for credit admission can be obtained from any of the Student Services Centers One Stop Student Development Center at the Cranford, Elizabeth, and Plainfield Campuses or through the College website, www.ucc.edu.
Degree Programs
Students are required to submit the following upon applying for admission to the college:
Official high school diploma/G.E.D.
Official college transcript, if applicable.
Scholastic Aptitude Test, if available.
It is recommended that applicants to all degree programs take the Scholastic Aptitude Test (SAT). The SAT is a test given by collegeboard.com. Acceptance to Union County College programs are not based on SAT scores. Certain SAT scores will exempt students from the placement test and may be required to qualify for selected scholarships at Union County College. It is the student's responsibility to register for the SAT exam and have the final scores provided to Union County College. Students may visit www.collegeboard.com directly to review registration information. (Union County College CEEB Code is 2921).
4. Immunization Records: The State of New Jersey requires all full-time students born after December 31, 1956 to be immunized against measles, mumps, Rubella and Hepatitis B, or prove that they meet one of the exemption requirements. Students must bring a copy of a certificate from a doctor or medical center showing proof of inoculations to the Admissions Office on the Cranford, Elizabeth, or Plainfield campus.
5. Candidates for programs leading to an associate degree are advised to complete 19 units of high school credit distributed as follows:
| | | |
| --- | --- | --- |
|   | a. English | 4 units |
|   | b. Lab Science*** | 2 units |
|   | c. Mathematics* | 3 units |
|   | d. History | 3 units |
|   | e. Foreign Language** | 2 units |
|   | f. Electives**** | 5 units |
* Candidates for STEM (Science, Technology, Engineering, Mathematics) programs are expected to have taken elementary and intermediate algebra, plane geometry, and pre-calculus.
** Optional for students entering programs other than liberal arts.
*** Engineering and physical science students should include physics and chemistry; health technologies students include biology and chemistry.
**** Chosen from foreign languages, social studies, science or mathematics. If a student does not have these high school units, non-credit prerequisite courses offered by the College may be required by the selected program of study.
6. Allied Health and Nursing program applicants must apply within the required program deadline date.
7. JFK Medical Center Muhlenberg Harold B. & Dorothy A. Snyder School applicants must apply directly to the JFK Medical Center Muhlenberg Harold B. & Dorothy A.Snyder Schools; all academic processing will be handled through the Schools. The Trinitas School of Nursing application for admission must be submitted directly to the Student Services Center at any of the three campuses.
8. After submission of the Union County College application and before enrolling in courses, placement testing in English and Math are required, unless a student meets the exemption criteria. The results of the test will not affect admission to the College (see Placement Testing).
9. Applicants with a disability are urged to seek an interview with the Coordinator of Services for Students with Disabilities. The Coordinator is located in the Student Services Center at the Cranford Campus and may be available upon appointment at Plainfield and Elizabeth campuses.
Admission to Health Sciences Programs
1. Admission to these programs requires additional criteria for selection and include Practical Nursing, Physical Therapist Assistant, Paramedic, JFK Medical Center Muhlenberg Harold B. & Dorothy A. Snyder Schools, Trinitas School of Nursing, and Cooperative programs with Rutgers -The State University of New Jersey.
2. Students in Health Sciences programs are required to attend an orientation session.
3. Distinct grading policies may exist in the nursing and allied health programs which differ from other College courses and programs. Specific information may be found in the course syllabi and/or handouts.
4. Health Sciences policies may supercede College policies.
5. Clinical agencies require that students complete criminal background checks, which must be completed before entrance into the clinical portion of the nursing and allied health programs. These background checks are completed by an outside vendor and the results will be shared with the school and the clinical agencies. It is the sole discretion of clinical agency personnel to determine if students are able to provide patient care, based upon the results of the criminal background check. Students who are denied clinical placements will be dismissed from the Health Sciences program.
6. Clinical agencies also require that students have medical clearance. Students will be informed regarding the specifics of the physical examination, laboratory testing and vaccinations that are to be completed by a physician or nurse practitioner.
7. CPR for the Health Care Provider and individual malpractice insurance coverage may be required for clinical patient care experiences. Further information will be provided during program orientations.
Special Admissions Programs
American Sign Language and Deaf Studies, A.S. Degree
American Sign Language and Deaf Studies, Certificate
Dental Assisting, Certificate
Educational Interpreter Program, Certificate of Achievement
Cooperative Programs in Professional Nursing, A.S. Degree
School of Nursing, A.S. Degree
Trinitas School of Nursing, A.S. Degree
Paralegal Studies, Certificate of Achievement
Practical Nursing, Certificate
Psychosocial Rehabilitation and Treatment, A.S. Degree
Radiography, A.S. Degree
Respiratory Care Program, A.S. Degree
Diagnostic Medical Sonography, A.S. Degree
Testing and Placement
After admission to the College and before enrolling in classes, students must take the College Placement Test or be exempt. The College Placement Test covers English and mathematics and is used to determine whether students are prepared for college-level coursework. While the results of the College Placement Test will not affect admission to the College, it may indicate the need for required developmental courses which must be completed before enrolling in certain college-level coursework.
Students whose native language is not English or who did not attend grammar school or high school in the United States may have to take the English for Speakers of Other Languages (ESL) Test in lieu of the College Placement Test.
In order to take either the College Placement Test or ESL Test, a student must have a College identification number and present a form of photo identification. There are no appointments to test: students may do so on a walk-in basis during the Assessment Center's open hours. Students must prepare prior to being permitted to take the College Placement Test. Please see the Assessment Center's website for study materials and current hours on each of the College's campus locations: https://www.ucc.edu/campus-life/student-services/testing/
The College Level Math Exam
Students who place into college-level math, including students exempt from the College Placement Test, should take the College Level Math Exam for appropriate placement. This may allow students to progress through their program at a faster rate.
Union County College requires that the following students take the College Placement Test:
Full-time and part-time freshmen entering Union County College.
Students who have not already taken the College Placement Test, but who register for courses that would result in the accumulation of 12 or more credits.
Students who meet the following criteria may be exempt from the College Placement Test*:
A student who graduated from high school within the past 5 years with an unweighted GPA of 3.0 or higher and completed 4 years of English and 3 years of mathematics will be exempt from the College Placement Test. The College reserves the right to evaluate placement upon review of the student's high school transcript.
A student who presents SAT (Scholastic Achievement Test from the College Board) scores of at least 540 in Critical Reading and/or at least 530 in Mathematics will be exempt from the appropriate section of the College Placement Test.
A student has earned a bachelor's degree from an accredited U.S. college will be exempt from the College Placement Test.
A student who is transferring in credits for college-level English composition or mathematics from an accredited U.S. college with a grade of C or better will be exempt from the appropriate section of the College Placement Test.
A student who has satisfactorily completed developmental courses in English and/or elementary algebra at another college may be exempt from the appropriate section of the College Placement Test.
A student who has taken the requisite Accuplacer English sections and/or Accuplacer algebra with qualifying test scores at another college in New Jersey within the past 3 years will be exempt from the appropriate section of the College Placement Test.
*Students will be required to submit official score reports or transcripts to the College based on the specific exemption.
To learn more about the Assessment Center, contact us at assessmentcenter@ucc.edu.
International Students Applicants
International students are welcome to apply at Union County College. Students applying with a valid visa other than a student visa (F-1) must submit copies of the visa with the Union County College application. Students applying for a student visa (F-1) must obtain an international student packet from the Admissions Office on any campus.
Application for admission and all required documentation outlined in the student packet must be submitted in its entirety, by the deadline dates. Students currently in the United States with an F-1 Visa from another U.S. institution who wish to attend Union County College must follow the same admissions procedure and will be required in addition to provide:
Official transcripts from all colleges or universities attended.
An International Student Advisor Report must be completed and signed by the Designated School Official of the current college/university the student is attending.
No decision will be made until all documents are submitted to the international advisor.
Approval of visa status is done through the U. S. Department of Homeland Security Office through Student Exchange Visitors Service and not through Union County College. Students acceptance to the College will be based on Visa approval for all F-1 visa applicants.
Effective fall 2016, Union County College will implement an English Proficiency Requirement for applying for the Form I-20, Certificate of Eligibility for F-I Nonimmigrant Student Status. for prospective students applying from abroad who do not have English as their language, a satisfactory performance on the Test of English as Foreign Language (TOEFL) is required for applying for the Form I-20.
A minimum TOEFL score of 30 on the Internet Based Test is required, or a minimum score of 380 on the Paper Based Test or 3.5 on the IELTS exam is required. Prospective students applying from abroad must submit an official TOEFL score report to the College. The test must have been taken within one year immediately preceding the requested semester of admission. To obtain information on taking the test, visit the following website http://www.toefl.org. The designated Institution code for Union County College is 00264300.
Applicants currently in the United States may take the Union County College's free ESL placement test administered on campus. All admitted students who have achieved the required TOEFL score may be required to complete the College's ESL placement test after arriving on campus and before they enroll in their first semester at Union County College.
Advanced Degrees/College Graduates
Applicants holding advanced degrees may be required to have an official transcript mailed to the Union County College Admissions Office, Cranford Campus. Transfer Credit reviews may require an appointment during times of heavy registration. All transfer students must have an official transcript at the time of their review.
Students producing evidence of earning advanced degrees from accredited U.S. or international institutions may be considered for placement testing exemption or transfer credit evaluation if requested. Applicants holding degrees equivalent to or at advanced levels from those offered at Union County College will be reviewed under the same criteria. Students may not matriculate in the same program for which they currently hold an approved degree.
Veterans Applicants
Union County College celebrates Veterans and encourages admissions and enrollment. Union County College participates with the VA provisions of the Federal Laws which entitle veterans to educational benefits. The requirements and services provided for the various programs can be reviewed through the VA website www.gibill.va.gov. To be certified for VA educational assistance, students must apply to the College, matriculate in an eligible degree or certificate program and apply for veteran benefits; proof of VA benefits and documents may be required. Veterans must check in with the Admissions office located on all campuses before registering for classes to ensure all requirements are met.
Bridge Program - Dual Enrollment
High school juniors and seniors may apply for the Bridge Program to earn college credits while still in high school. Permission of their high school advisor and parent/guardian is required. Bridge applicants must have a 'B' high school average. Union County College developmental placement testing is required. Bridge applicants must test out of all developmental courses to be eligible for registration. Acceptable SAT scores (see Placement Testing) will also exempt students from the college placement test requirement. Bridge Program applications are available in the high school guidance offices or the Recruitment and Admissions, Records, and Registration Offices on any campus. Students will be required to submit a Union County College application for admission with the completed Bridge form. Acceptance will be based on the results from the placement test or SAT scores and submission of required documents.
Dual/Joint Admissions Agreements
Union County College students who complete their associate degrees in designated programs and who fulfill all the necessary criteria of the dual admission program will be guaranteed admission as juniors to their choice of several undergraduate colleges/universities with which Union County College has agreements. For more detailed information, see Dual Admissions Agreements , page 46.
Readmission with Good Standing
A student who has withdrawn from Union County College in good standing and has left for a period of at least two consecutive semesters and seeks reinstatement need only to complete an application form. Students who withdraw and intend to re-register for the following semester need only fill out a registration form. When a student returns to Union County College under the readmission category, the student must adhere to the program requirements in effect at the time of readmission.
Registration
Registration, the process by which an admitted student enrolls and completes payment for their tuition and fees, must be done each semester/session. The registered student receives or may acquire a class schedule and a paid receipt which will verify enrollment in the requested classes.
New freshmen and current students who enroll have access to a member of the advising staff to assist in the scheduling and completion of the registration form. The advisor will assist the student with identifying the approved requirements of their program/major and assist students in the choice of electives.
The process is followed each term thereafter, students submit their registrations for the next semester in accordance with Union County College registration instructions. Online registration is available to most students and we recommend students take advantage of Web Services. It is the student's responsibility to be aware of the registration, withdrawal refund policy, etc. and have knowledge of graduation requirements of his or her program, to select the correct courses, to accumulate the required number of credits, and to avoid duplication of subjects. A full-time student may carry a minimum of 12 credit hours. Students requesting registration for over 18 credit hours must see an academic advisor for approval. Students registering for over 21 credits must obtain approval from the appropriate Division Dean.
Candidates may register at Union County College as full-time students (12 or more credit hours) or as half-time (6-11 credit hours) or as less than half-time or part-time students (1-5 credit hours) each semester/session. Classes are available days, evenings, and weekends.
A current student who wishes to change his/her curriculum must complete a program change form with an advisor and meet all requirements. New students wanting to matriculate (declare a major), and who have not done so at time of application submission must see an academic advisor.
Students who, after having registered, decide not to attend before the beginning of the ensuing semester may drop or add courses through Web Services, or meet with an advisor to complete a drop/add form. All forms must be submitted to the Student Services Center on any of the campuses to be officially processed. Students dropping all courses, with no intentions of returning the following semester, must return any items that belong to the College (such as a current Union County College identification card), to the Registration Office. Tuition refunds will be processed through the Student Accounts Office, if applicable.
JFK Medical Center Muhlenberg Harold B. & Dorothy A. Snyder Schools' students must consult with their school's advisor for registration and schedule changes. Registration, drop/add, and withdrawals for all courses must take place through the JFK Medical Center Muhlenberg Harold B. & Dorothy A. Snyder Schools registration office. Practical Nursing and Allied Health students will receive specific information on the policies and procedures for registration, class schedule changes, and withdrawals. Union County College/Rutgers SHRP students must meet with an admissions officer or advisor to discuss pre-requisite courses required for the program. Acceptance is based on approval by the Rutgers SHRP admission committee.
Students who have not settled financial obligations incurred at the College will be prohibited from registering or receiving transcripts or final grades until outstanding debts are paid. There may be a fee incurred for switching sections.
The College reserves the right to cancel any course where there is insufficient enrollment. Visit our website www.ucc.edu.
Classification of Students
Matriculated Students - Students who are accepted in a specific program of study for degree or certificate credit on a full-time or part-time basis are matriculated students. Official high school and college transcripts may be required. Full and part-time students who have selected their program of study as undecided will change their program to a college program after completing no more than twelve degree credits or have their program changed by the College to Liberal Studies.
Non-Matriculated Student - Students who are not accepted in a specific program or who do not wish to declare a program are nonmatriculated. Credits earned as a non-matriculated student may be applied toward a future degree or certificate if they apply.
To be eligible for financial aid, students must be matriculated.
Class Standing
Students with less than 30 credits are considered in freshman (FR) standing; students with 30 credits or more are considered to be in sophomore (SO) standing.
Program Change Requests
The Program Change Process is coordinated by the Advising, Career, and Transfer Services department. Students in good academic standing may apply to change their program of study after they have completed at least one semester at Union County College. Students meet with and complete the Program Change form with an advisor. Students requesting a change in their major to an allied health program may be required to complete a new College application.
Schedule Changes
Limitations on section size make it impossible for every student to arrange a schedule which will meet his/her personal convenience in every instance. The student's academic obligations must take precedence over his/her personal commitments, including employment. Students may drop a scheduled class(es) within the published registration dates posted on Web Services.
Students who are in the Educational Opportunity Fund Program (EOF), Health Programs, JFK Medical Center Muhlenberg Harold B. & Dorothy A. Snyder Schools, Trinitas School of Nursing, and Rutgers SHRP will meet with and do all registrations through the program advisor.