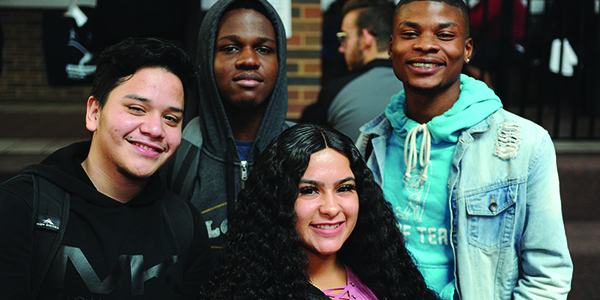 Programs leading to the Associate in Arts (A.A.), Associate in Science (A.S.), and Associate in Applied Science (A.A.S.) include a distribution of General Education courses in the categories of:
Communications (courses enhancing written and oral communication in the English Language);
Mathematics, Science, and Technology (courses enhancing mathematical and scientific conceptual understanding and application, including knowledge of computers);
Social Science (courses enhancing social awareness, including social, economic, and political problems, and the responsibilities of citizenship in an interdependent world);
Humanities (broad-based courses in literary, philosophical, foreign language, historic, aesthetic, or other humanistic studies enhancing understanding and transmitting values of one's own culture as well as other cultures);
History (broad-based courses in historical perspective which may be sequence or survey in World, Western, non-Western, or American History);
Diversity (courses whose purpose is to expose students to a multicultural society or people).
The General Education requirements vary according to the degree program. A.A. Programs require 45 general education credits; A.S. Programs require 30; A.A.S. Programs require 20. No more than 16 hours in one discipline (e.g., English, Chemistry, Psychology, History) may be counted toward the general education requirement for each degree.
Certificate Programs require 6 General Education credit hours including one Communications course. Diploma Programs require 10 General Education credit hours.
Students should choose their general education courses based upon the degree sought and their transfer plans. Advisors will work with students to design a personalized plan of study.
General Education courses are marked with a ▲ in the course description section of the catalog. A list of General Education courses by category follows. General Education requirements for each degree program are summarized in the table below:
General Education Requirements by Degree
Course Catagories
AA credits
AS credits
AAS, AS Nursing credits
Certificate credits
Communication (Written and Oral Communication)
9
6
6
3
Mathematics – Science – Technology
Mathematics 3-8 cr. (Quant. Knowledge & Skills)
Science 3-8 cr. (Sci. Knowledge & Reasoning)
Technology 0-4 cr. (Technology)
12
9
3
3
Social Science (Society and Human Behavior)
6
3
3
3
Humanities (Humanistic Perspective)
9
3
History (Historical Perspective)
6
 
 
 
Diversity Courses (Global & Cultural Awareness)
3
Unassigned General Education
 
6
8
General Education Total
45
30
20
6
Multicultural Perspective
The College recognizes and respects the diversity of its student body. All faculty are encouraged to attend conferences and workshops to increase their sensitivity to intercultural issues and to integrate into their courses an awareness of the contributions that people of diverse backgrounds have made to each field of knowledge.
General Education Categories