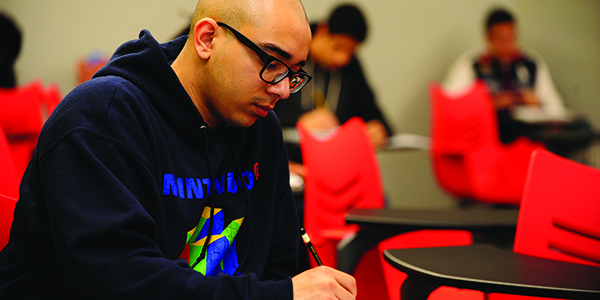 Union offers two-year programs leading to the Associate in Arts, Associate in Science, and the Associate in Applied Science degrees, and programs leading to the Certificate and Certificate of Achievement. The course requirements for each program are outlined in this catalog.
All matriculated students, whether they plan to transfer to a four-year institution or complete their college careers at the end of their programs, are eligible for the Associate degree, the Certificate, or the Diploma if all graduation requirements set forth in this catalog have been met. The curriculum programs are offered as guidelines and courses do not necessarily need to be taken in the order suggested. Please note, however, that many courses require prerequisites or corequisites.
Academic Programs are subject to change. Students should contact the office of the Vice President for Academic Affairs for the most current information.
Degree Information
Course Substitutions & Waivers
While the course requirements specified in the following curriculum descriptions are normally required, students may request to waive or substitute courses which are available infrequently. Students wishing to do so should see the appropriate Division Dean or Vice President for Academic Affairs for approval.
Course waivers will be given at the discretion of the involved Division. It is strongly recommended that students obtain course waivers before registering for the substitute course.
Alphabetical Program List
American Sign Language and Deaf Studies, A.S.  
American Sign Language and Deaf Studies, CT.   
Computer Information Systems & Technology, A.S.  
Computer Science/Engineering, A.S.  
Drone Design and Applications, A.A.S.  
Early Childhood Elementary Education, Suggested Grades Pre-K-3, A.A.  
Education, Suggested Grades 4-12, A.A.  
Educational Interpreter Program (EIP), CT.A.  
Emergency Medical Studies, CT.  
Emergency Medical Studies, CT.A.  
Engineering Technology, A.A.S.   
Fire Science Technology, A.A.S.  
Game Design and Development, A.A.S.  
Hotel, Restaurant, and Tourism Management, A.A.S.  
Interpreting Spoken Language, CT.  
Journalism and Public Relations, A.A.  
Mathematics Major Education Option, A.S.  
Medicinal Plant Chemistry, A.S.  
Nursing, JFK Muhlenberg Harold B. & Dorothy A. Snyder Schools, A.S.  
Nursing, Trinitas School of Nursing, A.S.  
Paramedic Emergency Health Science, A.A.S.  
Physical Therapist Assistant, A.A.S.  
Psychosocial Rehabilitation and Treatment, A.S.  
Remote Pilot and Drone Application, CT.  
Diagnostic Medical Sonography, A.S.  
Supply Chain Management, CT.A.